Who are 2012's young business stars? We've got the CEO of a blue-chip beer brand, an airline CEO who just placed the largest order in commercial aviation history, and Warren Buffett's new prodigy, among the Silicon Valley hotshots and others.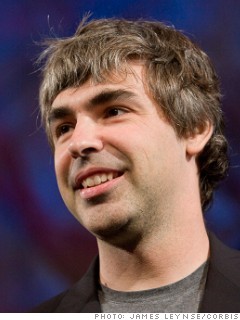 Age: 39
Co-founder and CEO, Google
Since the co-founder returned to the CEO role last year, he's been bent on proving Google still has its mojo, even as he puts his own stamp on the search engine he co-founded 14 years ago. Straight out of the gate, Page closed Google's boldest acquisition to date—the $12.5 billion purchase of Motorola. He also stripped away layers of management and shuttered dead-end projects. Google+, its self-styled "social spine," hasn't exactly been a home run—as of last count, its 100,000 active users are a drop in the bucket compared with Facebook's 1 billion. Still, Google pretty much owns the mobile ad space, pulling in north of 95% of all dollars spent on phone ads. And its Android operating system has been a runaway success. (It powers over half of all smartphones sold in the U.S.) For their part, shareholders have already voted: Google's stock is at an all-time high. This year Page leapfrogs Mark Zuckerberg to take the No. 1 slot on our list for the first time.
Out of this world: Page recently invested in an asteroid mining venture called Planetary Resources, which aims to "expand Earth's natural resource base." -- Michal Lev-Ram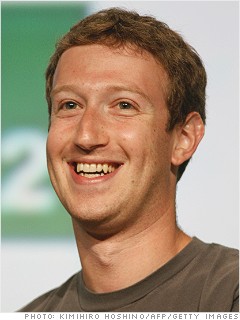 Age: 28
Founder and CEO, Facebook
Facebook's stock may have taken a beating since its $104 billion stock market IPO in May, but eight years after Zuckerberg founded the social network in his Harvard dorm room, it continues to dominate: 1 billion active users have uploaded a total of 219 billion photos and given a thumbs-up "like" 1.13 trillion times since launch. The company also released major updates to its mobile applications, and, reflecting Zuckerberg's philosophy of full steam ahead, the Facebook founder hired architect Frank Gehry to expand the company's already vast Palo Alto headquarters.
Mobilize: Zuckerberg is so attached to his smart phone, he used it to write his founder's letter for Facebook's S1 stock registration -- all 2,178 words of it.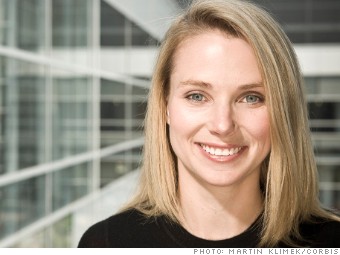 Age: 37
President and CEO, Yahoo
The Google veteran (she was its 20th employee and first female engineer) received a call from Spencer Stuart über-recruiter Jim Citrin in June, dangling the top job at Yahoo. The move was risky; Yahoo's notoriously fickle board has named four CEOs in five years. But after 13 years at Google, most recently steering its local and map business, Mayer jumped at the promotion, ) notwithstanding the expected October arrival of her first baby (a son, born Sept. 30). Mayer's product development chops -- Google's iconic search page design is said to be her brainchild -- provide hope for the struggling Yahoo, which needs serious help growing revenue -- and its stock price.
First move: Free lunch for everyone at Yahoo's Silicon Valley office.
4. Sergey Brin & Jack Dorsey (Tie)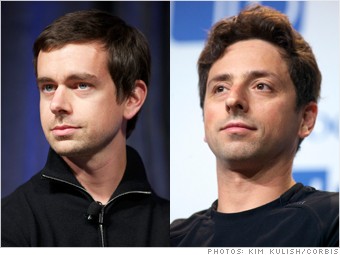 Sergey Brin
Age: 39
Co-founder, Google
Brin might have the best job at Google: turning science fiction into reality. The search giant's co-founder stepped down as president of technology in 2011 to focus on the fun stuff dreamed up in the super-secretive Google X labs. Take "Project Glass," which he unveiled in June. The goofy-looking computerized glasses let users watch videos and browse the web via a tiny display in their line of vision. In his spare time, Brin (along with his wife, 23andme CEO Anne Wojcicki) has become a bigtime philanthropist, donating $132 million to the battle against Parkinson's disease.
Cash pile: Brin's net worth is estimated at $20.3 billion. —M.L.
Jack Dorsey
Age: 35
Founder and CEO, Square
Co-founder and executive chairman, Twitter
The consummate multitasker no longer has a day-to-day role at Twitter but he's been on a tear at Square. The fast-growing payments company has signed on more than 2 million customers, including both Romney and Obama campaigns, which use it to collect donations. In August, Square signed its biggest merchant yet: Starbucks, the king of lattes. Dorsey personally flew to Seattle to seal the deal with Starbucks CEO Howard Schultz, who now sits on Square's board. As part of the agreement, Starbucks invested $25 million in Square, helping to raise the startup's estimated valuation to a whopping $3.25 billion. Not bad for a deal that was sealed in the virtual blink of an eye.
His dream job: Mayor of New York City.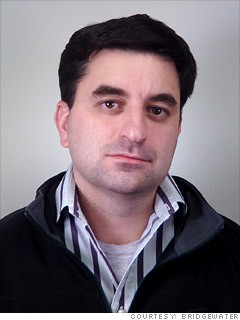 Age: 38
CEO, Bridgewater Associates
Jensen has come a long way at Bridgewater, the world's largest hedge fund. In August the former intern became chief executive of the $130 billion, 1,200-person hedge fund firm. He remains co-chief investment officer with founder Ray Dalio, and together the team recently won the coveted Hedge Fund Firm of the Year from Institutional Investor. Jensen and his fellow execs constantly fine-tune the firm's investing bible -- the legendary set of rules that guide the firm's every investment move -- reflecting their belief that the world is now driven by policy, not markets.
Om: Jensen started meditating last year, finally giving into Dalio's recommendation that he try it. The result? He's a convert. He says he has greater clarity and focus. --Katie Benner